"Elegance in style"
Status:
Available for a yard that considers innovation and sustainability to be important. The design of the "E-Hybrid 36" motor cruiser is in the engineering phase in which drawings and calculations are made and all components are optimally matched. Interested? Feel free to contact QYD to discuss possibilities!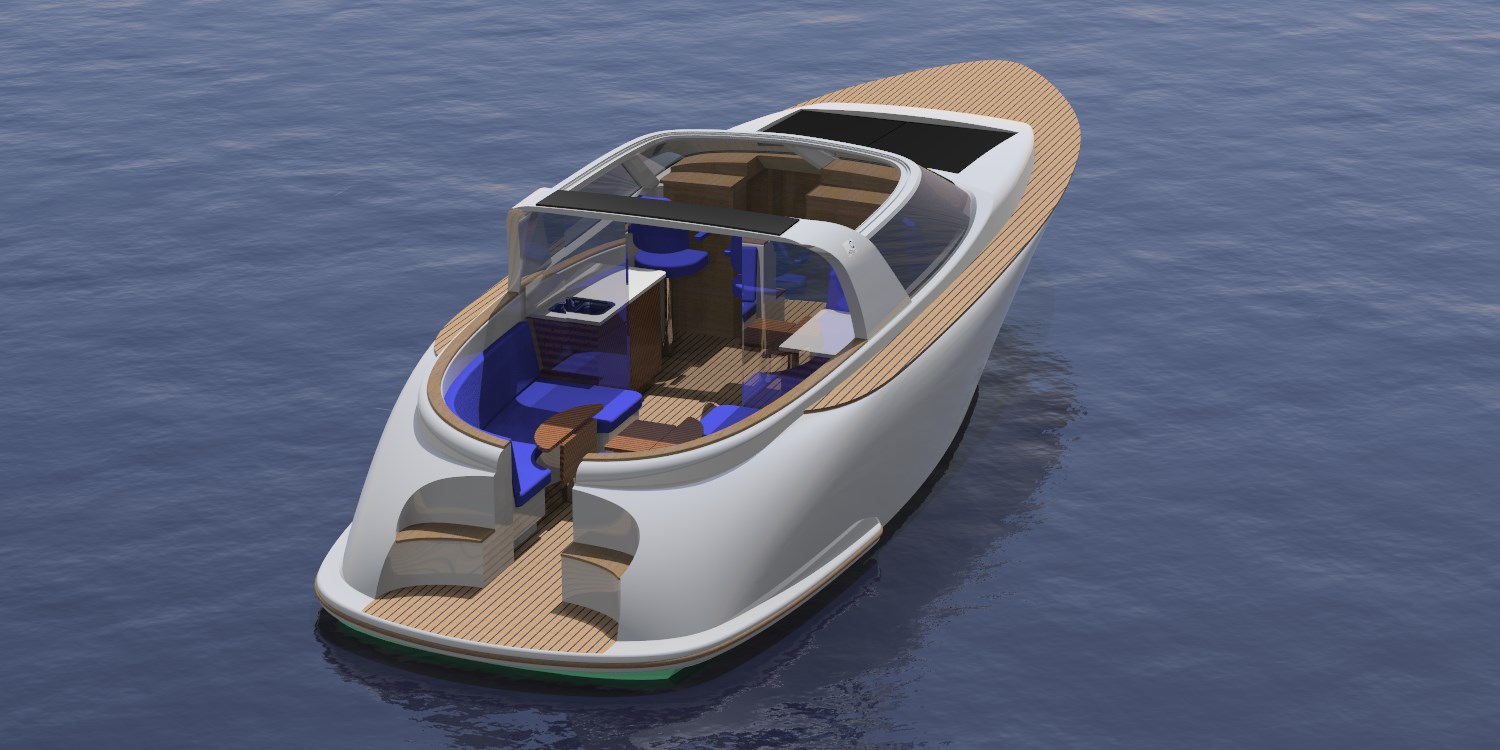 Characteristics:
What stands out with the "E-Hybrid 36" cruiser is the elegant, timeless design and the fact that there is nothing comparable. This "Electric Hybrid" has an electric main motor, which results in whisper-quiet and clean sailing and therefore a very high level of comfort. You can sail on the battery pack for a day, and then charge it again at night. A range extender can be installed as an option. The optional range extender is a small silent generator that can charge the batteries when they are almost empty. This makes this yacht also suitable for users who use more power because they make longer trips, or like to sail faster. The new environmentally friendly blue diesel can be used as fuel for the range extender, but ordinary diesel is also possible.
Layout and Interior features:
The main deck is on one level and has an open area with a swimming platform and lounge sofas with tables. The main deck continues forward through a glass wall with sliding doors into a semi-open area with kitchen and steering position. This semi-open section can be made without a roof, but also with a closed roof or in the convertible version with an opening roof. The roof is a module and can be replaced by another type of roof by the yard. The closed roof version offers the most space for solar panels, so in this version the most power can be generated: Approximately 1400 kWh per year in central Europe. That is more than 20 battery charges per year without the need for an electrical outlet. These battery charges can be used for propulsion, but also for on-board use. This makes it possible to stay at anchor in peace for days and have more than enough power without starting the generator.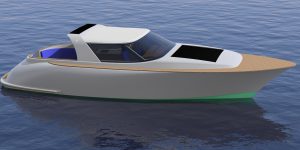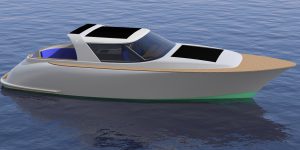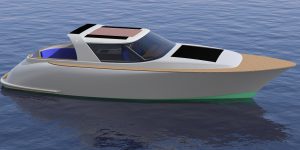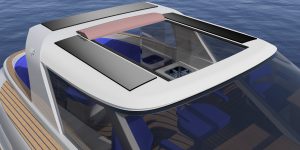 The layout focuses on the main deck on being active, enjoying the outdoors and socializing: Swimming platform with seats, comfortable seating / lounge sofas, and a central semi-outdoor kitchen for hot and cold drinks, with grill/BBQ, and pizza oven.
From the main deck forward, the lounge/cabin is located a few steps below. On this lower deck, the emphasis is on ease and privacy: A separate shower, separate toilet room and a cozy sitting area that can easily be converted into a comfortable sleeping place for 2 people. The electric drive takes it a step further on top of this comfort due to the absence of noise, vibrations and exhaust gases.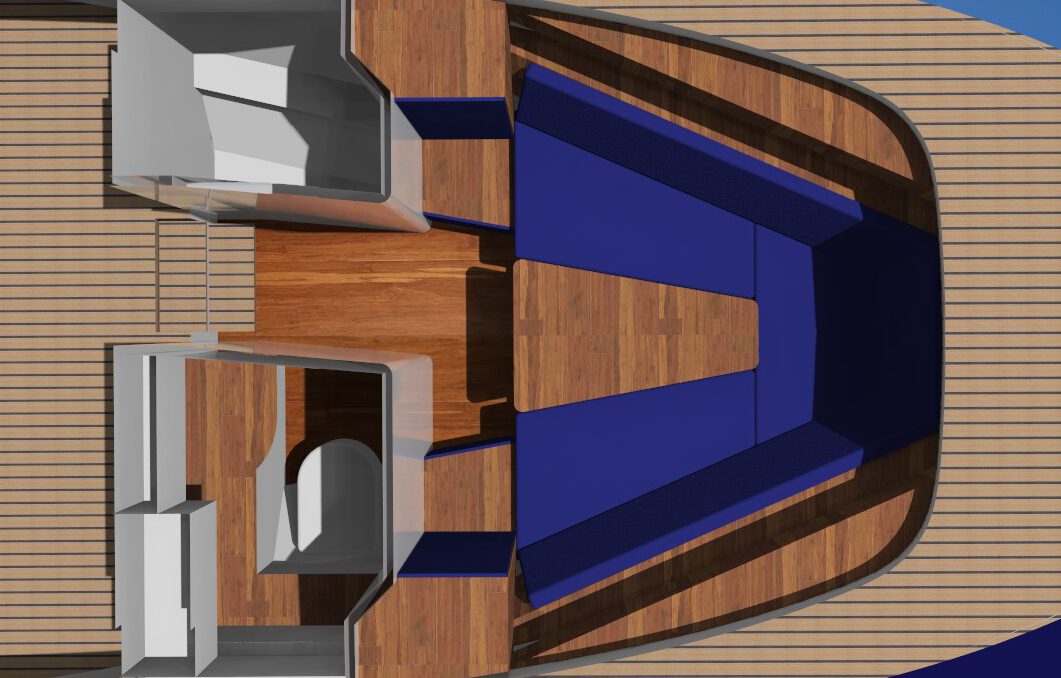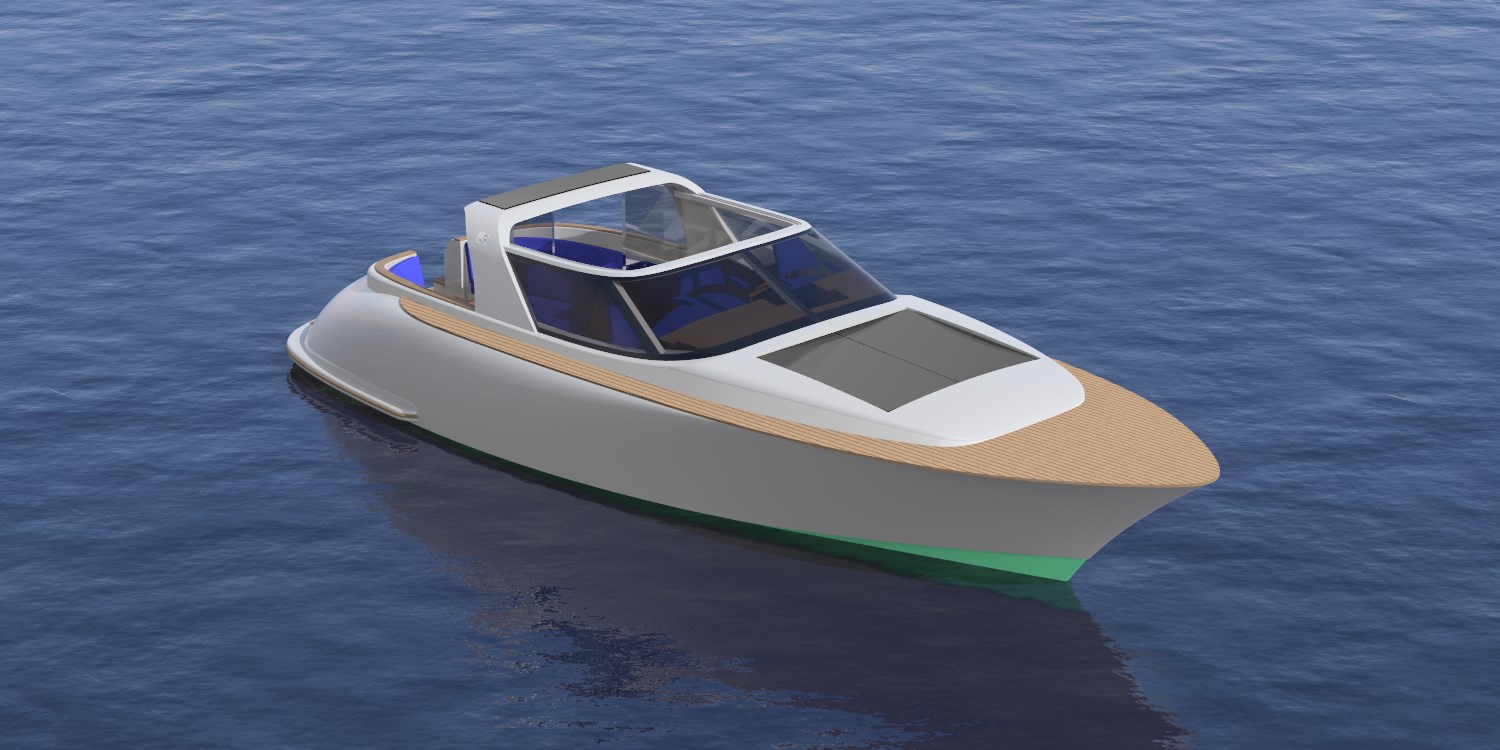 The following design requirements were essential to the design of this comfortable electric-hybrid motor cruiser:
* A contemporary luxurious appearance with beautiful timeless lines.
* Application of durable and low-maintenance materials.
* Can be charged anywhere with a standard wall socket.
* Very high degree of safety due to several watertight compartments.
* Good ergonomics through great attention to the layout and seating comfort.
* Easy to get on board and leave the yacht via the swim platform.
* Enough comfortable seating for 12 persons.
* Suitable for overnight stays with 2 to 4 people.
* Good sailing characteristics for canals, rivers, lakes and coastal waters.
* Can sail for a day without having to recharge the batteries.
* Simple and clear operation.
* Efficient, optimized underwater lines.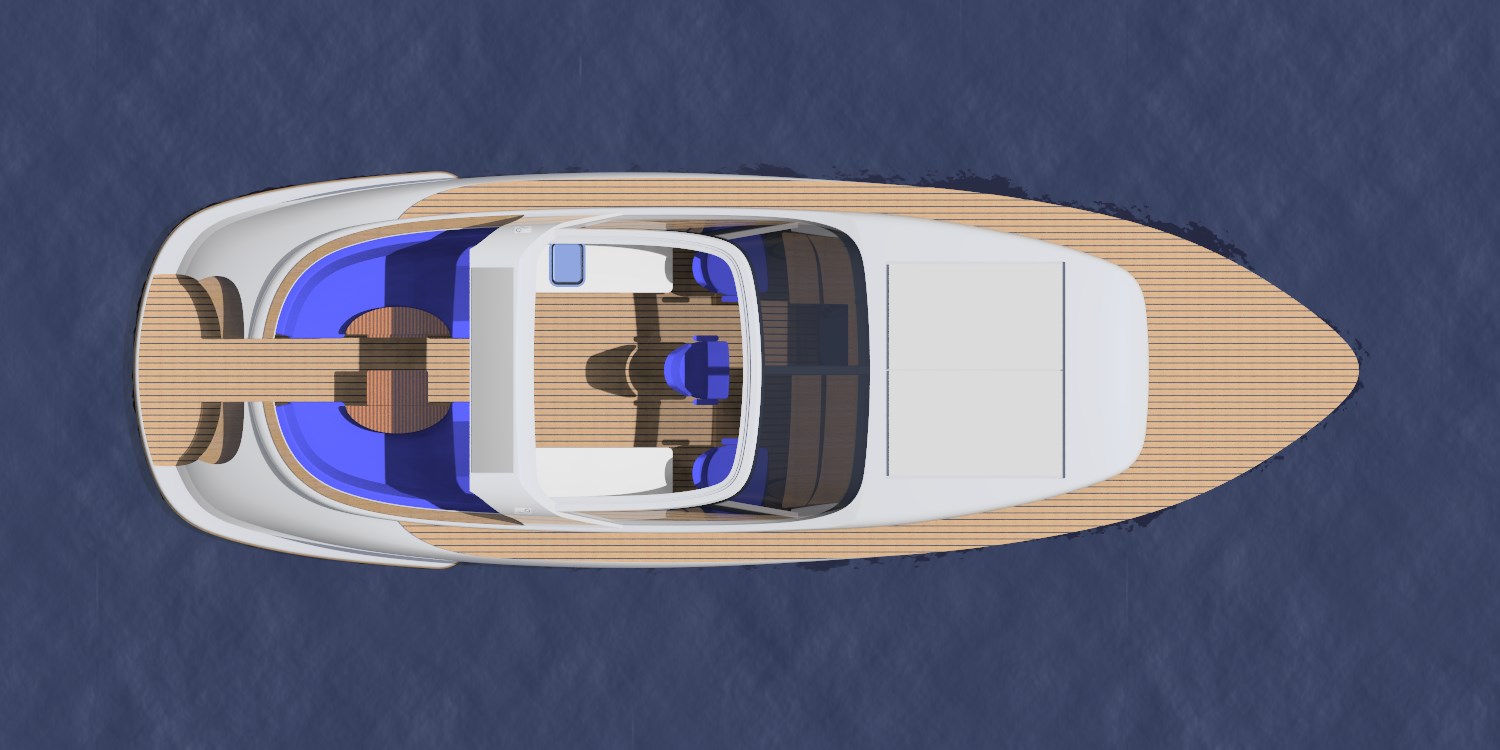 Main dimensions:
Length over all: 11.40 m
Breadth: 3.66 m
Draft: 0.85 m
Air draft: 2.40 m
Motor power: 65 kW (electric)

Battery capacity: From 60 kWh
Maximum speed: 10,5 knots (19 km/hr)

Cruising speed: 7 knots (13 km/hr)

Building material: Composites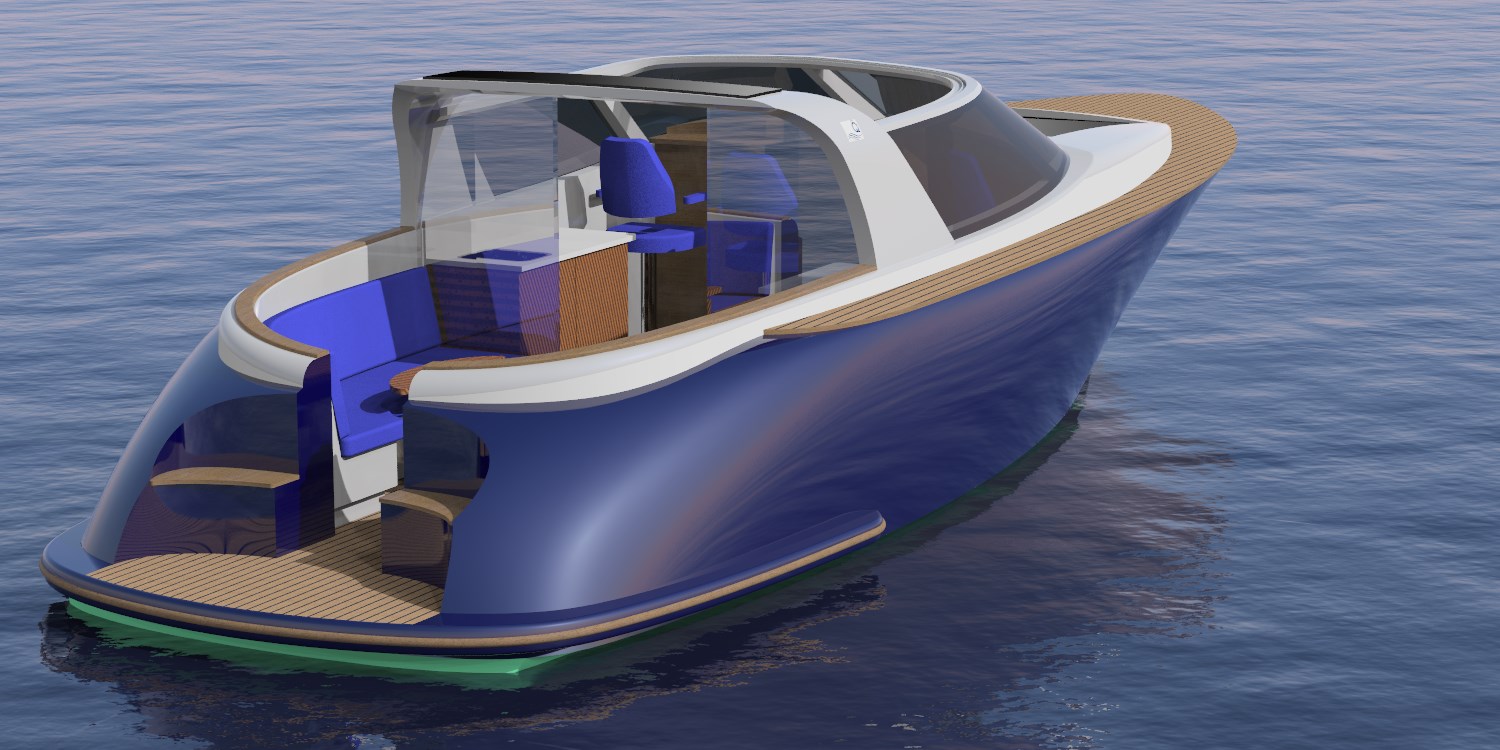 © Queens Yacht Design Holland