"An Affordable New Classic"
Status:
The design of this "7.99 m Affordable Electric Cabin Cruiser"  is complete including 3D modeling. The engineering phase in which building drawings and calculations are made and all components are optimally matched will be finished in october 2022. Then series production will start and the first boats will be delivered spring 2023 branded as "Strømsø Electric Folkboat" by Norwegian watersports company Strømsø.

Characteristics:
What stands out with this "Affordable New Classic" is the combination of classic and sturdy design and the fact that there is nothing comparable. This Electric Solar Cabincruiser has 2 electric steerable pod motors, which results in whisper-quiet and clean sailing and therefore a very high level of comfort. Maneuvering is excellent and easy. Solar panels in the roof provide electricity to charge the batteries, giving a great experience of independence. They also make it possible to stay anywhere for days and have more than enough power.

With the basic version you have a very affordable cruiser that can sail on the battery pack for a day, and then charge it again at night. A model with the basic necessities and equipment, fine for most people. A version suitable for those with limited budget or for rental companies.

With the fish version the boat is equipped to fully enjoy your favorite outdoor activity on the water. With extra safety and place for all your fishing gear.
With the comfort version you have the top model. For those who want to live comfortably in the boat for longer vacations. 220 volt electricity outlets just like home, and any option that adds the extra joy to your daily boating pleasure.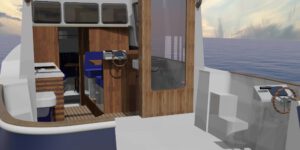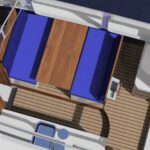 Each version comes with 3 range options:
Standard range
Enough range for most people, easy cruising for a day. With the solar panels counted in, good enough for longer trips, as well as for rental.
Medium range
f you want a bit more or if you have no charge outlet where your boat is parked.
Long range
King of range, 125 km sailing on a charge. Hirtshals (Denmark) to Arendal (Norway) in one charge without the solar panels counted in.
This long range option makes this cruiser also suitable for users who use more power because they make longer trips, or like to sail at top speed.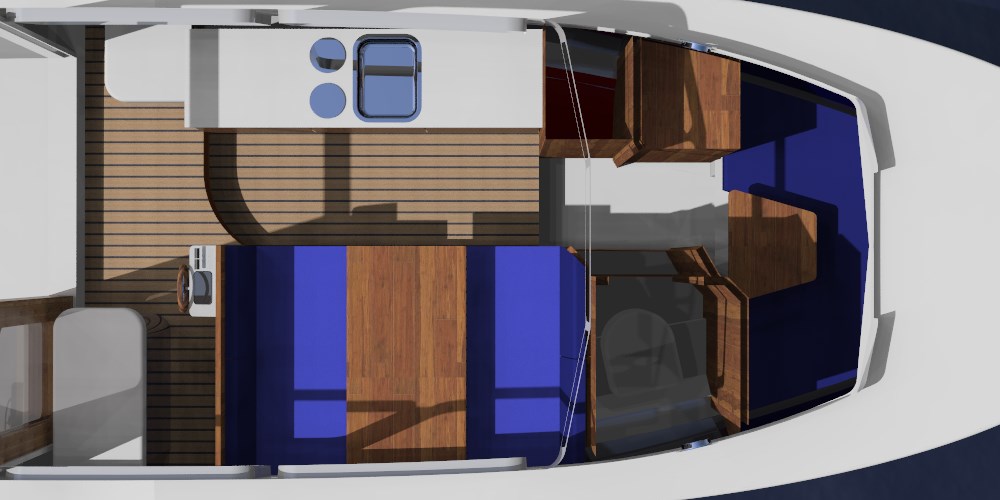 Layout and Interior features:

The large aft deck has a swimming platform and continues forward through  sliding doors to the steering position on the same level. This semi-open area makes it possible to have conversations with your companions, inside as well as on the aftdeck while you steer the boat and have the sliding doors opened. After all, a silent electric boat is also very much a social boat. From the steering position forward, the kitchen and dining is located one step down.  On this central deck, the emphasis is on space and comfort. If desired, the cozy dining can easily be converted into a comfortable sleeping place for 2 people. It is also possible to hang 2 hammocks on the ceiling for 2 extra sleeping places.

The layout focuses on the aft deck and in the salon on being active, enjoying the outdoors and socializing: Swimming platform, comfortable seating / dining, and a central spacious kitchen for hot and cold drinks, with optional extra cooking equipment. As standard the kitchen is equipped with fridge, sink, running water and spirit burner for cooking. In this area the interior height is 1,90 to 2,10m, and with the XL beds in the forward cabin suitable for taller people.

From the salon forward, the separate toilet and separate cabin with 2.20m long double bed is located one step down, to enjoy your rest and comfort in privacy.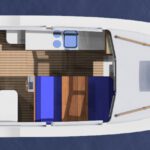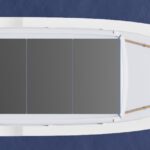 The following design requirements were essential to the design of this affordable electric cabin cruiser:
* A contemporary appearance with original timeless lines.
* Boat and equipment easy and efficient to clean and maintain.

* Self-draining aftdeck that is easy to clean.
* Can be charged anywhere with a standard wall socket or type 2 plug.
* Very high degree of safety due to several watertight compartments.
* Great ergonomics through much attention to the layout and seating comfort.
* Easy to board and leave the yacht via the aft platform or the hatch forward.
* Enough comfortable seating for 6 persons.
* Suitable for overnight stays with up to 6 people, 2 in hammocks.
* Good sailing characteristics for canals, rivers, lakes and coastal waters.
* Can sail for a day without having to recharge the batteries.
* Simple and clear operation, easy to maneuver and sail.
* Efficient, optimized underwater lines.
* A practical boat for a broad audience.
Main dimensions:
Length over all: 7.99 m
Breadth: 2.76 m
Draft: 0.60 m
Air draft: 2.22 m
Motor power: 8 kW (electric)
Battery capacity: From 15 kWh
Maximum speed: 6,8 knots (12 km/hr)
Cruising speed: 5 knots (9 km/hr)
Building material: Composites
CE class: C
For more info on options and pricing see the website of Strømsø .